Carpets get dirty over time; it needs to be cleaned well to maintain their look, and shine, and increase their life. Unfortunately, people fail to understand the best carpet cleaning method. While some go for dry powder or encapsulation cleaning, others think carpet shampooing or bonnet cleaning will help them get the best result. Some also use carpet stain removal. However, all these floor cleaning methods are suitable; steam carpet cleaning is the best.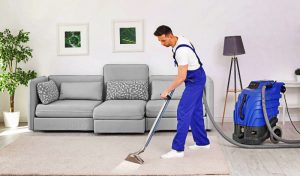 Benefits of Steam Carpet Cleaning
Steam carpet cleaning will only help you maintain the look and shine of the rugs, but there are many other benefits. If you want the best idea about it, then you should go through the points specified below.
Steam carpet cleaning is essential to eliminate the pollutants from many sources, such as cockroach allergens, pet dander, and dead bugs. The pollutants can make the environment dirty and dangerous, especially for kids and older people. Hence steam cleaning is essential to improve indoor air quality and provide a safe and healthy atmosphere for your loved ones. The experts also use carpet stain removal to deliver the best result.
These produce trigger allergic reactions, which pollute the environment. The carpets or rugs are always at significant risk, so cleaning is the key to controlling mould growth. While routine cleaning can help you get a good result, steam carpet cleaning is a must if you want a long-lasting solution.
Dust mites are tiny insects you can't see without a microscope, but they are everywhere. You will find it under your mattress, behind the window curtains, on fabric toys and most importantly, in carpets, which is their favourite place. Minimise dust mites and prevent them from spreading by using carpet stain removal, and the hot water extraction method is the best one you can go. It will kill and remove the dust mites hiding in your rugs.
Steam carpet cleaning is vital if you want to extend its life. The expert carpet cleaners in Brighton follow all the safety measures and take precautions while cleaning the rugs. They make sure that everything is done and completed on time.
Using the best carpet stain removal and choosing steam cleaning is one of the best ways to increase the shine, appeal and life of your floor covering. In this way, you will also save your time and money.
Carpet Stain Remover is a leading carpet cleaning company offering excellent service in Melbourne, Brighton, Camberwell, Coburg and other areas.
With years of experience in the industry, we have always been successful in exceeding the expectations of the customers. Our experts only use the latest technique and powerful cleaning equipment to offer the best result. So if you are looking for a team you can trust for carpet stain removal in Brighton, this is your destination. Call us now to book an appointment, and we will be right there to help you.